Looking for a high-quality car back seat cover that provides both style and protection? Look no further than our custom-made-to-order car back seat covers!
Each cover is handcrafted from premium polyester micro-fiber fabric and 2mm thick foam for maximum durability and comfort. This high-quality construction ensures that our seat covers will not only protect your car's back seats from spills, stains, tearing, fading, and more, but also provide you and your passengers with an extra layer of comfort while driving.
Designed for quick and easy installation on most car and SUV bucket style seats, our covers feature an elastic backing and fastening system that ensures a snug and secure fit on most standard car and SUV seats. Best of all, no tools are required for installation, making it a quick and hassle-free process.
Please note that our covers are not suitable for use on seats with integrated airbags, seat belts, or armrests. Safety is our top priority, and we want to ensure that our covers do not interfere with any of the safety features of your car's seats.
Each order includes a back seat cover and three back headrest covers, packaged in an opp bag. This ensures that your car's back seats are fully covered and protected, and that all of your passengers can enjoy the added comfort and style that our covers provide.
Upgrade your ride today with our premium car back seat covers! Our custom-made-to-order covers are handcrafted to the highest quality standards, ensuring that you receive a product that is both durable and stylish. Trust us to protect your car's back seats and provide you with a comfortable driving experience.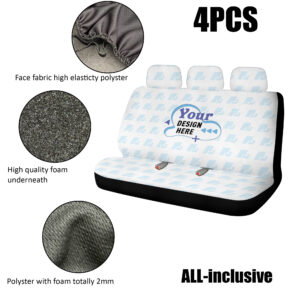 ---