User Agreement
Effective as of March 1st, 2020
Welcome to the PGPrints! The following describes the terms under which we provide the PGPrints service (the "Service") to you. This agreement governs both those who create registered member accounts through our Service ("Members") and those who visit or use our Service without creating a registered member account ("Visitors"); this agreement applies to parties who wish to use the Service to establish a Campaign and offer Products, as set forth below ("Sellers").
PGPrints provides a service, called the PGPrints App that allows users to design and sell custom apparel via their own online stores created at Shopify.com or WooCommerce API.  By using our site and our service, and the PGPrints App in any way, you accept the terms and conditions within this agreement and our Terms of Service, including any future amendments (collectively, the "Agreement").
By violating this User Agreement of this Terms of Service in any way, you may be subject to the immediate removal of the PGPrints App from your store, cancellation of any pending orders, and/or suspension or termination of your account, at the sole discretion of PGPrints.
The PGPrints App is provided "as is", with no warranty of any kind.  We have made every effort to provide a service that functions as expected; however, from time to time errors or internet connections may limit the performance of this service.  In no way shall PGPrints be responsible for any loss of profits due to or arising from the use of the PGPrints App.
By installing the PGPrints App in your Shopify store or WooCommerce API:
You agree to accept and abide by these Terms of Service in their entirety.
You agree that the artwork sold on your store, and the description and title thereof do not, either in and of themselves or in combination, infringe upon the rights of any third party.
You agree not to provide any inaccurate, misleading or untrue information in your store including, but not limited to: the amount of product for sale, the origin of production of the product, or the intended recipient of profits.
You agree to defend, indemnify and hold PGPrints and its affiliates harmless from and against any and all claims, damages, costs, and expenses, including reasonable attorneys' fees, arising from or relating to your use of the PGPrints App or PGPrints' site and services, your violation of this agreement, or your violation of any rights of another.
You agree that PGPrints is not responsible for any consequential, indirect or any special damages, including, but not limited to, lost profits, associated with any action taken by PGPrints pursuant to this Agreement or your use of PGPrints service.
You agree to allow PGPrints, at its sole discretion, to continue with fulfillment and distribution of orders from your store, even if your PGPrints account is canceled or suspended.
You agree to allow PGPrints, at its sole discretion, to discontinue access to the App service for any reason PGPrints deems necessary.
WHICH EVIDENCE SHOULD I SUBMIT FOR REPLACEMENT?
Submitting all pieces of evidence to clarify shipping/product error is very important to our return/replacement process. Please note that all required pictures must be sent. Otherwise, we cannot provide return/replacement items. You can find the attached pictures as below for example:
Picture of shipping label
Picture of the product and the error you found out (material flawed, different design, different size)
For shoes' size problems, please attach photos of all shoes, the tag size, and insole's length (a ruler should be applied).
TO BE ELIGIBLE FOR A REFUND/REPLACEMENT, PLEASE MAKE SURE THAT:
The product was received in the last 7 days for ones shipped from Vietnam/US or 15 days for ones shipped from China.
The product has the problems we describe below.
Wrong product shipped
Firstly, you need to ask your customer for some pictures as proof, which include: picture of the wrong design item, and the picture of the shipping label.
Then, we will check your proof, if it's wrong design, we will resend or refund depending on your requirement. 
Color differences between mockup and real product
We need some picture of real product to verify its color from your customer, which is the photos of real product taken with a mockup on computer / phone screen.
You can provide examples of real product images as following one: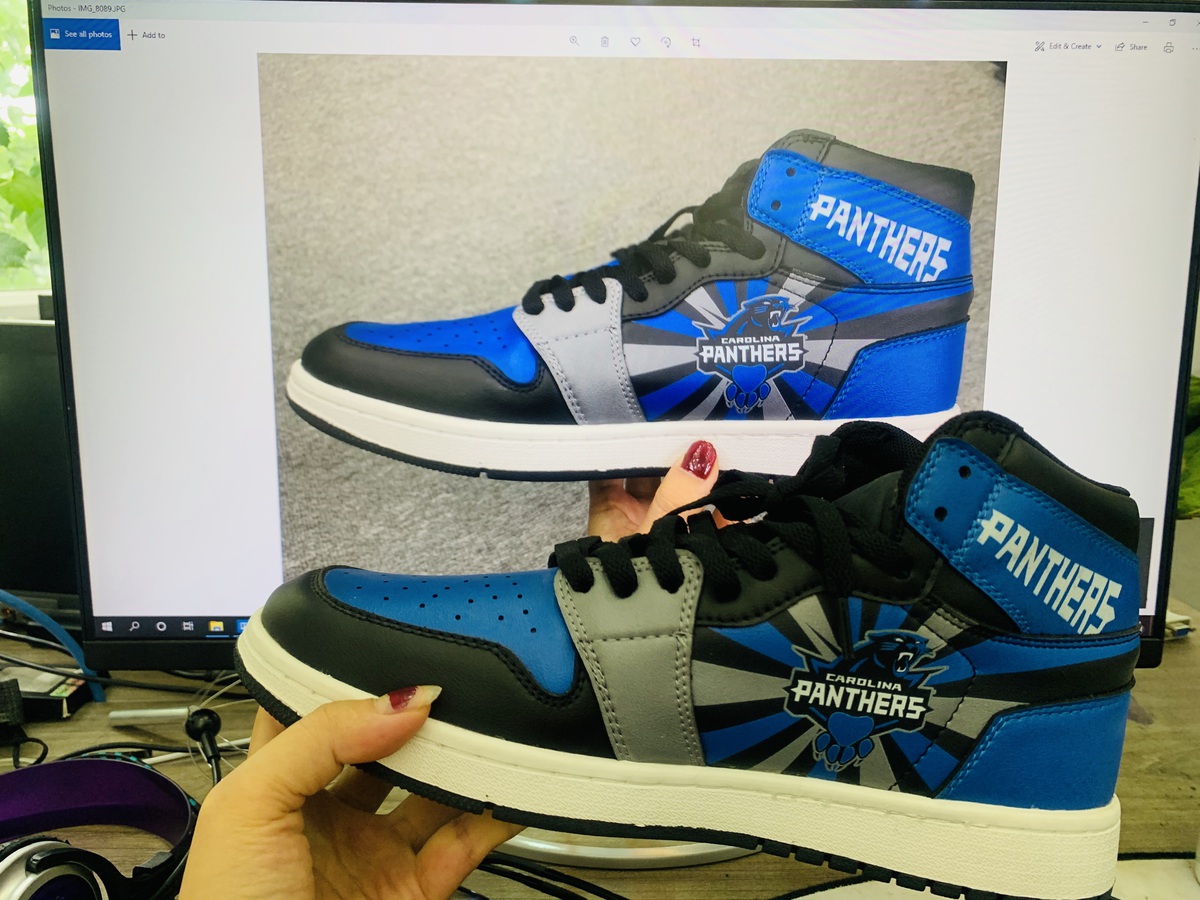 Size issue
First, you need to ask your customer for a/some picture(s) as proof: 
You should ask them to take a photo they measure the size of the product with a ruler.
FOR SHOE PRODUCTS, we need 3 pictures showing: the tag size on the outsole, the length of the insole measured by a ruler, and the item to see the design.
Then, we will check your proof, if it's wrong size, we will resend or refund depending on your requirement. 
Broken/ Damaged items:
Firstly, you need to ask your customer for some picture as a proof, which includes: picture of the broken item, and pictures of shipping label.
Then, we will check your proof, if it's broken, we will resend or refund depending on your requirement. 
Incorrect address
Make sure you provide the correct address at checkout because we are not responsible if your order gets delivered to the wrong address or lack of/incorrect phone number.
If you contact the final mile carrier after the order has left our warehouse and ask them to forward or redirect your package, we are not responsible if that package gets lost, stolen, or damaged.
FedEx sometimes just charges more without any notice in advance when the consignees let them change the delivery address. Kindly make sure the address forwarded to us since this surcharge is paid by sellers.
Haven't received the goods.
With these circumstances,  you have to wait for the product to come back to our warehouse. When we are received and inspected, we will send you an email to notify you that we have received your product. Then, we will carefully pack the product and send it to you. You are responsible for shipping costs to deliver it.  Shipping costs depend on order total and weight.
Orders are returned
In case the tracking number shows returned goods, PGPrinta will not be responsible in case you provide the wrong address, or the tracking number shows the returning reasons that come from you. If the goods are returned for unknown reasons, or in the process of transmitting address information to the post office is wrong, PGPrints will refund base cost or resend depending on your requirement.
Problems arise from the logistics
If your order is in transit. However, for some reason, the goods are returned/lost, PGPrints will refund base cost. However, we do not assume ability if the problem results from consignee (address, unable to contact…)
The shipping method for shoes is DHL Express/FedEx Express, but for copy brand shoes, we cannot use DHL Express/FedEx Express for shipping. For normal shoe orders, if the order does not have a phone number, specific address, the address is PO Box, we cannot ship by DHL Express/FedEx Express but will use an alternative shipping method.
In case of shipping by FedEx, FedEx will automatically charge money from PGPrints without prior notice if the recipient changes the address arbitrarily or when the goods cannot be delivered nor destroyed but can only be returned. This fee will be paid by the seller after we receive the bill from FedEx, so you need to be sure of the shipping address to avoid these situations. List of countries that do not cancel goods but only return with automatic charge fees:
| | |
| --- | --- |
| Argentina | AR |
| Germany | DE |
| Spain | ES |
| Croatia | HR |
| Hungary | HU |
| Kazakhstan | KZ |
| Netherlands | NL |
| Saudi Arabia | SA |
| Slovakia | SK |
| Italy | IT |
| Belarus | BY |
| Serbia and Montenegro | CS |
| Portugal | PT |
| Russian Federation | RU |
| Denmark | DK |
| Romania | RO |
| Bulgaria | BG |
| Czech Republic | CZ |
| Austria | AT |
Privacy Policy
How We Use Your Information
We use information that we collect about you or that you provide to us, including any Personal Information:
To present our Application and its contents to you.
To provide you with information, products, or services that you request from us.
To fulfill any other purpose for which you provide it.
To provide you with notices about your account, including expiration and renewal notices.
To carry out our obligations and enforce our rights arising from any contracts entered into between you and us, including for billing and collection.
To notify you about changes to our Application, or any products or services we offer or provide though it.
In any other way we may describe when you provide the information.
For any other purpose with your consent.
PGPrints does not proactively publish/reveal sellers' information, data, resources to 3rd party, except for manufacturers, without sellers' permission.
Restricted Uses
Listing of offered products on the App could be used only for lawful purposes by Users of the App. You could not frame or utilize framing techniques to enclose any hallmark, logo, copyrighted image, or most proprietary details (consisting of images, text, page layout, or type) of PGPrints without express composed consent. You might not use any meta tags or any various other "unseen text" utilizing PGPrints' name or trademarks without the express written consent of PGPrints. You agree not to offer or modify any content found on the App consisting of, however not limited to, names of Users and Content, or to recreate, display, openly perform, distribute, or otherwise make use of the Material, in any way for any public function, in connection with services or products that are not those of PGPrints', in other way that is likely to trigger confusion among consumers, that disparages or challenges PGPrints or its licensors, that dilutes the strength of PGPrints' or its licensor's residential property, or that otherwise infringes PGPrints' or its licensor's copyright rights. You also agree to abstain from abusing any of the material that appears on the Site. The use of the Material on any other website or in a networked computer system environment for any purpose is prohibited. Any code that PGPrints develops to generate or show any Material of the pages making up the Site is likewise secured by PGPrints' copyright, and you may not copy or adjust such code.
If alerted by a User of any products which allegedly do not conform to these Terms, PGPrints could in its single discernment explore the allegation and figure out whether to take other actions or ask for the removal or get rid of the Content. PGPrints has no liability or duty to Individuals for efficiency or nonperformance of such activities.
Your Account
If you utilize the App, you are accountable for maintaining the confidentiality of your account and password and you accept responsibility for all activities that happen under your account and password. You also accept not to reveal any personally identifiable information, consisting of, however not limited to, first and last names, credentials, or various other details of a personal nature ("Personal Data") from the Site. Your disclosure of any Personal Data on the website might result in the immediate termination of your account. PGPrints additionally reserves the right to refuse service, terminate accounts, and remove or edit Content at it's sole discernment.
Design Uploads
PGPrints is not liable for printing or delivery delays related to complications arising from flawed designs being uploaded by store owners. PGPrints is not liable for any monetary loss or damages arising from the inability to produce or ship infringing content.
ORDERS SEIZED BY CUSTOMS DUE TO COPYRIGHT AND TRADEMARK CLAIMS
Monetary Losses arising from orders seized by customs due to copyright and trademark claims are the responsibility of the seller. PGPrints is not liable for losses related to the seizure of goods by international customs regulations.