Our frosted glass beer mug is crafted from premium-quality glass, ensuring durability and a refined aesthetic that is both clean and vibrant.
With its sturdy construction and smooth handle, this mug provides a comfortable grip for hands of all sizes, making it the perfect vessel for enjoying your favorite brew.
The mug is customizable for groups, corporate events, bachelor/bachelorette parties, and other occasions, making it a unique and personalized gift option.
All artwork is printed using non-toxic dye-based inks, ensuring that the design is safe for you and the environment.
Each frosted glass beer mug is custom-printed just for you when you place your order, ensuring that every mug is unique and one-of-a-kind.
This beer mug makes an excellent gift for Valentine's Day, Christmas, Mother's Day, Father's Day, birthdays, or any gift-giving holiday.
Please note that due to the custom nature of the production process, there may be slight differences in the design of each mug, making each one truly unique.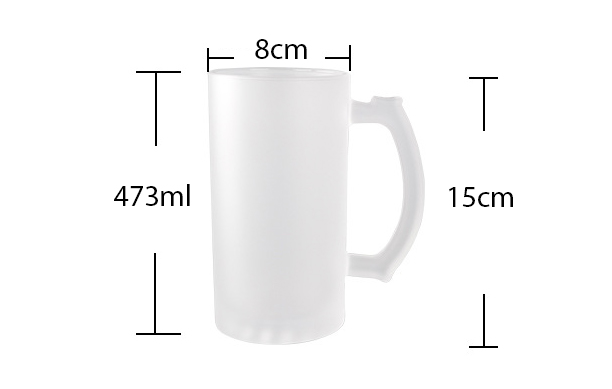 Weight: 0.8kg/1.8ibs
Packaging: Frosted glass beer mug x 1 cup.